The idea that modernist architecture brings horrors – that its utopian dreams beget dystopia, that its striving for sunlight breeds nightmares – has been around for decades. There has also been a gathering rediscovery that modern buildings can be beautiful and humane and sometimes lovable, to the point that you can now buy brutalist gift items and brutalist books. Horror in the Modernist Block, an exhibition at the Ikon Gallery in Birmingham, is a reminder that the dark side has never entirely gone away.
The show takes Birmingham as its starting point, a city made over in the 1960s with big roads and housing projects, and more recently made over again with more commercial versions of modernity. It is the home of Spaghetti Junction, of the colossal Castle Vale council estate, of the comprehensively rebuilt Bullring, of the now demolished inverted concrete ziggurat that was the Central Library, and its glitzier replacement by the Dutch architects Mecanoo.
The exhibition's curator, Melanie Pocock, was inspired by lockdown walks around the emptied structures and spaces of this contested legacy and by observations of the artist Stuart Whipps, who was raised in a concrete house on the edge of the city. She was also prompted by conversations with the Manila-based artist Maria Taniguchi. For the latter, and for others in many parts of the world, modernism is not the architecture of enlightened social democracy but of dictators such as Ferdinand Marcos in the Philippines.
Twenty artists, from the UK and abroad, have been invited to contribute new and recent work on the theme of the title. The aim, says the official text, is "to take viewers on a journey that highlights how the design of a building can shape our movement, perception and fears". So there is, for example BRUTAL, a newly commissioned video by the London-based artist NT, which shows modernist housing in Birmingham at night, with little sign of human life apart from the occasional switching on and off of lights and the movements of the camera, set to foreboding music.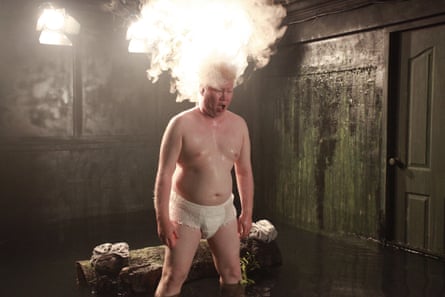 There is The Cloud of Unknowing by Ho Tzu Nyen, set in a run-down apartment building in Singapore. Here, imaginary inhabitants occupy singular interiors – a cellar knee-deep in water; a study where the bookcases close in on the occupant; a room containing many light fittings; a kitchen with broken tiles and maggoty leftovers – while a mysterious cloud slowly engulfs them.
Maria Taniguchi makes an "accidental horror film" out of still photographs of Mies van der Rohe's Barcelona Pavilion, which pop up at accelerating pace. The Paris-based Laëtitia Badaut Haussmann creates a gallery-high installation out of a photograph of a classic modernist interior, folded and angled like an early horror-movie set, behind which is a creepy interior furnished with a couch and gin glasses. Seher Shah presents 32 screen prints, whose black-on-white abstract shapes are beautiful, but come with texts on the violence and dislocations of modern-day New Delhi.
The truth, of course, is that modernism is not always scary, any more than it is always benign, and at times the premise of the show is in danger of predetermining interpretations of the works, of encouraging a generalised angst and anomie. Some, though, offer more nuanced interpretation – BRUTAL ends with a brief reminder that, actually, these places are homes. It's an observation that could productively be developed, that the domestic and the sinister can coexist.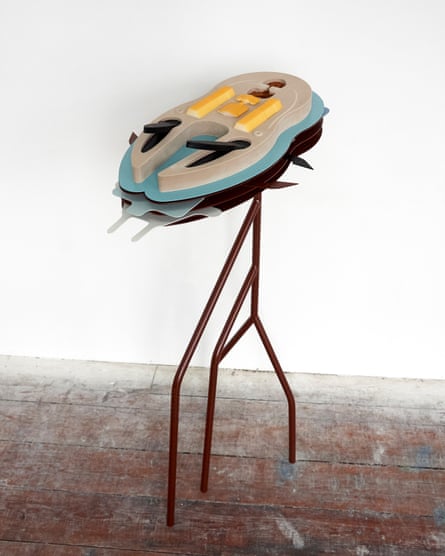 Some of the pieces are not scary at all, or are even positively engaging. Shah presents crisp geometric etchings based on Le Corbusier's Unité d'Habitation in Marseille, sunnier than the Delhi prints, and closer in spirit to the artefacts of the current brutalist revival. Amba Sayal-Bennett makes colourful drawings and sculptures out of architectural motifs that look both digital and ancient, and which combine computerised and handmade techniques such that it's hard to tell one from the other.
There's a lot to take in. There's an hour's worth of video in the first two galleries alone, of which the longest single piece – Ho's cloud in the apartment block – is also the most rewarding, but you have to work hard to excavate its nuggets. Many of the works offer insights that are oblique going on opaque. Given the multiplicity of the artists, viewers have repeatedly to recalibrate their eyes and brains to enter each one's world.
Art is meant to open the mind, but this show asks a lot of the patience and persistence of the ordinary visitor. In the circumstances, I found myself particularly drawn to more direct pieces such as Sayal-Bennett's. Also to Spaghetti Junction by Ismael Monticelli, a big blue triangle decorated with figures from medieval bestiaries, which draws parallels between Birmingham's famous motorway intersection and a similar structure in Brasília.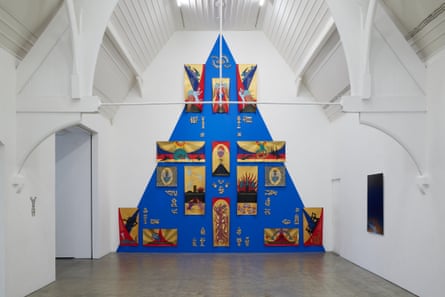 You come away – at least I did – with a somewhat confused bag of images and fragments, bits of wit and insight and occasional charm. You exit the Ikon Gallery – a converted school building in a Victorian gothic style of a kind sometimes linked to other forms of horror – into the architectural maelstrom of contemporary Birmingham. Here, 60 years of well-meaning public art jostles with the signage of shops and bars, and wide roads with pedestrian zones, and the robust concrete angles of a 1966 signal box – now a listed building – faces the glossy blob of the remade New Street station. As in the exhibition, there is much that disturbs and depresses, some tedium, and moments of grace.